Thunder Bay Multicultural Association
17 N. Court Street
Thunder Bay, Ontario
P7A 4T4
Telephone: (807) 345-0551)
FAX: (807) 345-0173
Please use folklore@thunderbay.org to reach the Folklore Festival email.
TBMA Website Link. Click here.




We celebrate the richness of our country, Canada, where we can be proud to be Canadian, as we are, and we can still continue to share the wealth of our cultural heritages.

Jeanetty Jumah, Folklore Festival Committee, TBMA
---
FOLKLORE FESTIVAL 2018 VOLUNTEER Registration is using both a Google Docs Link or Forms to register (your choice) ready to be downloaded. Folklore Festival would not be able to run without the generosity of our great volunteers. Mark you Calendars for May 5-6 and for May 3-4-6 for Pre and post festival help that is also needed in addition to May 5-6...
VOLUNTEER REGISTRATION using the Google Docs online Registration Database to register. Click
Please use this Google Docs link for more Volunteer Information and to Register online

Paper Volunteer Registration Forms are available below or by contacting jjumah@gmail.com (Please print clearly since we often cannot read the important contact number and then are not able to reach you.) Available in MS WORD format or PDF Format. MS WORD FORMAT Files (will allow you to save them and fill them in and resave them)
2018 VOLUNTEER Registration Form (2 pages)
PDF FORMAT Files (will allow you to open them with Adobe Reader)
2018 VOLUNTEER Registration Form (2 pages)


---

The Thunder Bay Multicultural Association

presents

Folklore Festival 2018 "Our 45th Folklore"

Saturday May 5th and Sunday May 6th Sat. 12 noon to 11pm and Sun. 12 noon to 7pm Fort William Gardens, Thunder Bay, Ontario
"Take a Trip Around the World in 48 Hours!"

---


This Website is hosted by Phone: (807) 623-1881
---
Folklore Festival 2018 Poster Enjoy!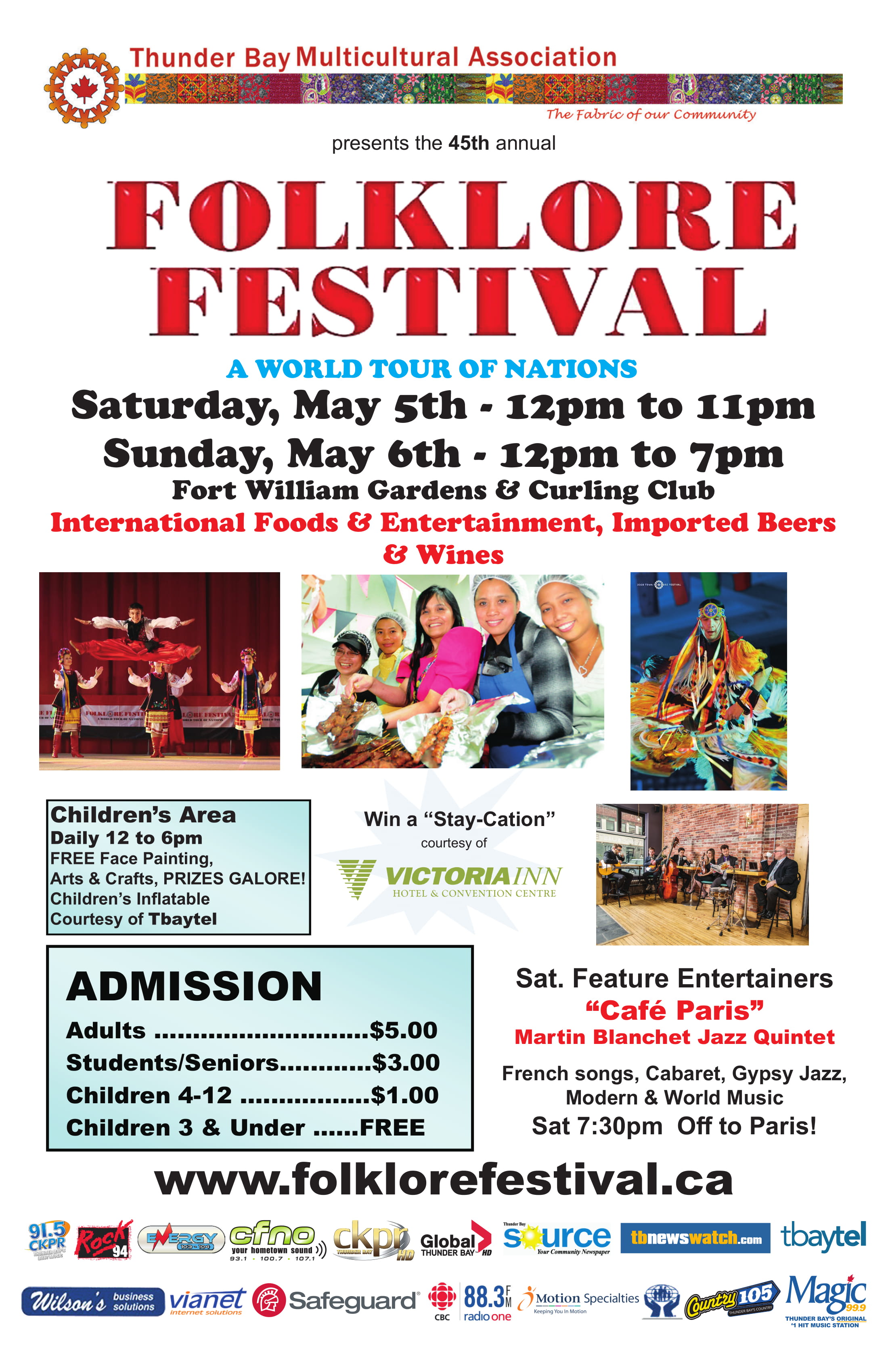 2018 Entertainment Schedule Click here.
The 2018 Program Click here.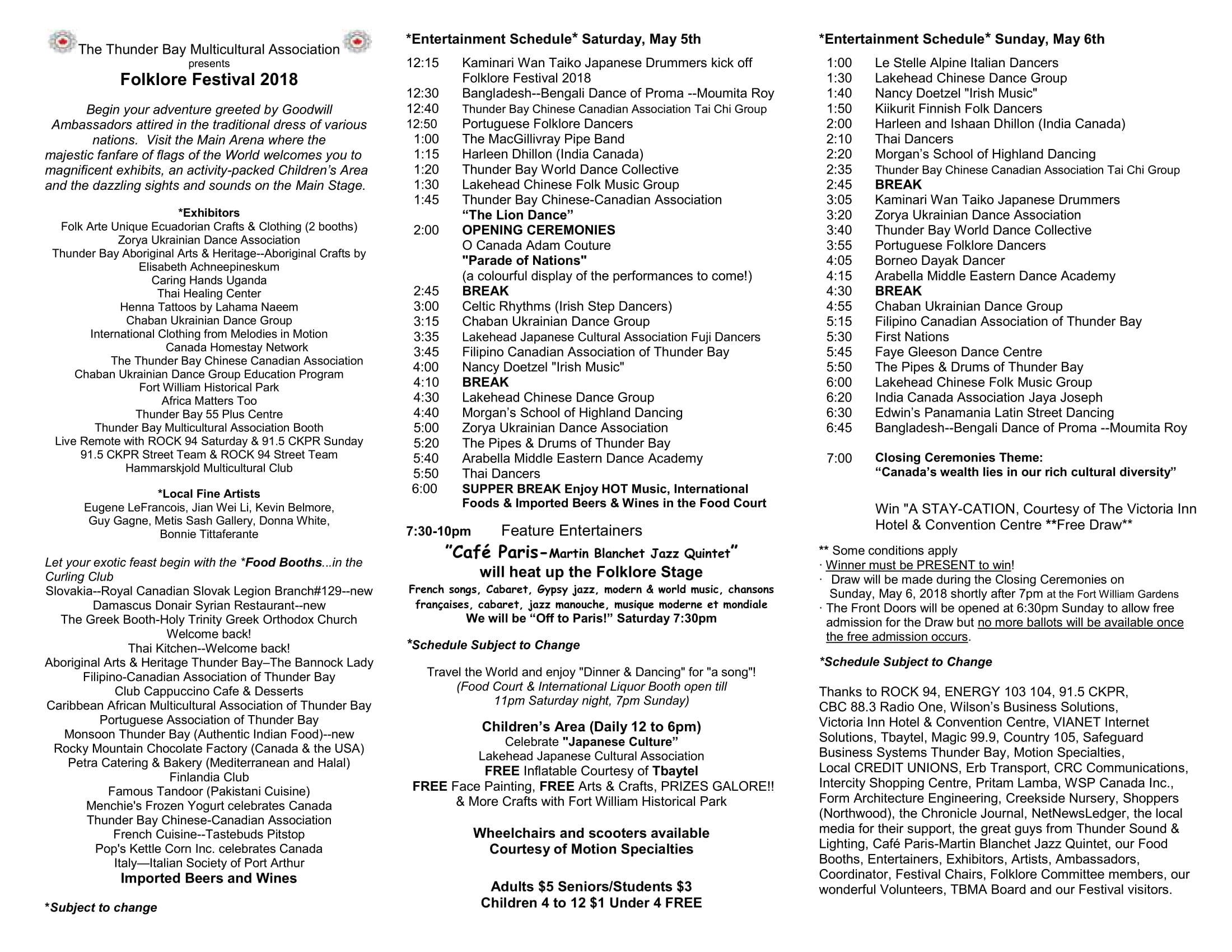 Contact Michelle Lander at 345-0551 for information.

Victoria's Cupboard pays Tribute to Folklore Festival. Click here.


Continue for LINKS & PHOTOS (below)
---
Photo HIGHLIGHTS of 44 Years of FOLKLORE FESTIVALS



A World of Entertainers




| A Crowd Favourite | A Goodwill Ambassador | First Nations Performer |
| --- | --- | --- |
| | | |
| The Lion Dance | Filipino-Canadian Talents | Beauty of the Ukraine |
| | | |





| Portugal Awaits | The Caribbean | The Tastes of India |
| --- | --- | --- |
| | | |


Thanks to all the volunteers, entertainers, exhibitors, Food Booth groups, sponsors, and Thunder Sound & Lighting who helped to make each Folklore Festival, a feast for the mind and body.



---